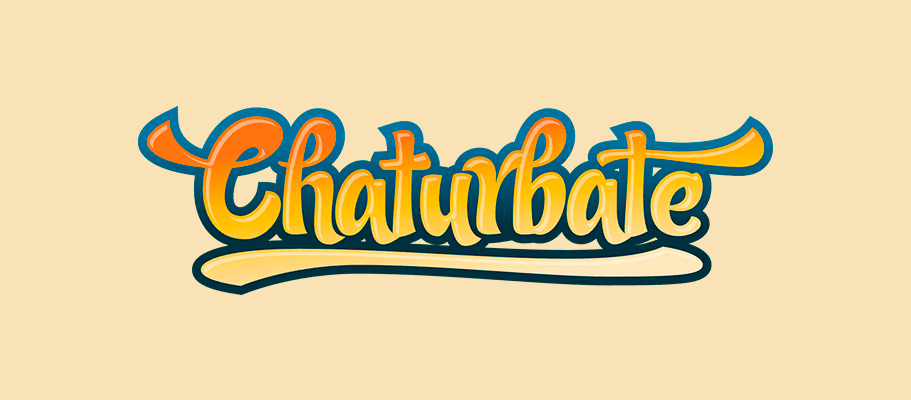 Do you already know Chaturbate?
If not, you are missing out on one of the best adult model live webcam sites on the internet.
What's more, you're missing out on one of the most popular online addresses across the globe, because Chaturbate is on the list of the top 100 most accessed websites on the internet!
So if you like chatting and masturbating, check out our detailed review below of what you can find on this super interesting project.
About Chaturbate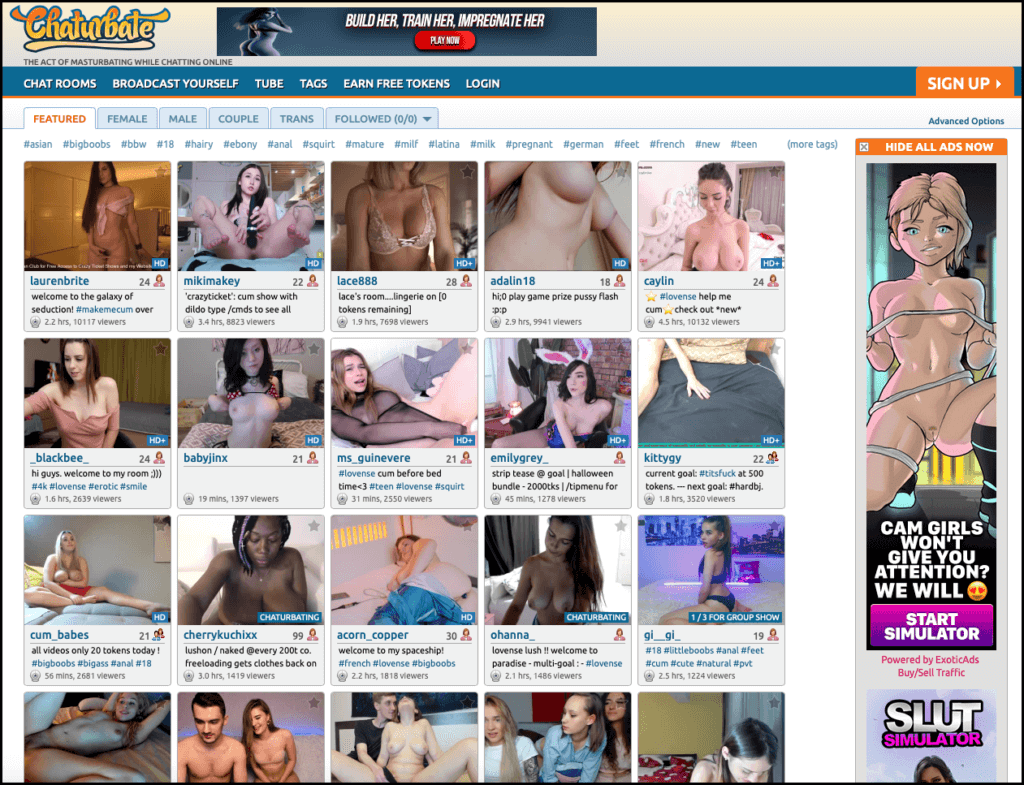 Founded in 2011, Chaturbate is a United States based site whose primary purpose is to connect model live webcams with interested users.
The site is available globally with translation into 15 languages, and you can find models from 7 continents, with a variety of ethnicities, genres, and styles.
There are basically live webcams for every taste and fetish in the world, with a very good diversity of models and show types available at any given time.
So if you are interested in Chaturbate, know that your access is completely free, as well as chat, simply create an account on the site to start interacting with the model or other users.
The only part that involves money is if you want to tip/donate models, view exclusive content, or request a private, group, or spy show. In these cases you will need to buy tokens.
There is also a paid subscription that allows you to remove all ads from the site, making browsing faster, clean in design and without unwanted distractions.
In addition to this, there are also model fan clubs, which have memberships with varying prices, and are an easier way to directly support your favorite model, as well as gain exclusive benefits.
Knowing this adult webcam site
The first thing you'll see when you visit Chaturbate's official website is this warning below, which explains that the content there is for adults (+18). If you are, just click the "I AGREE" button to continue and you no longer see this alert.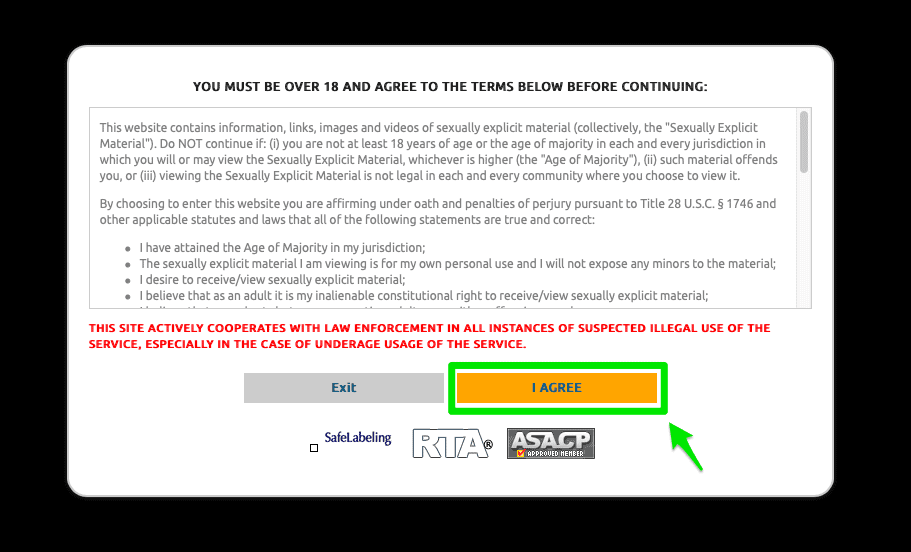 Now with the site properly open, you already have access to thousands of model live webcams, and you are initially shown to the featured rooms on the platform, which are the most successful at that time.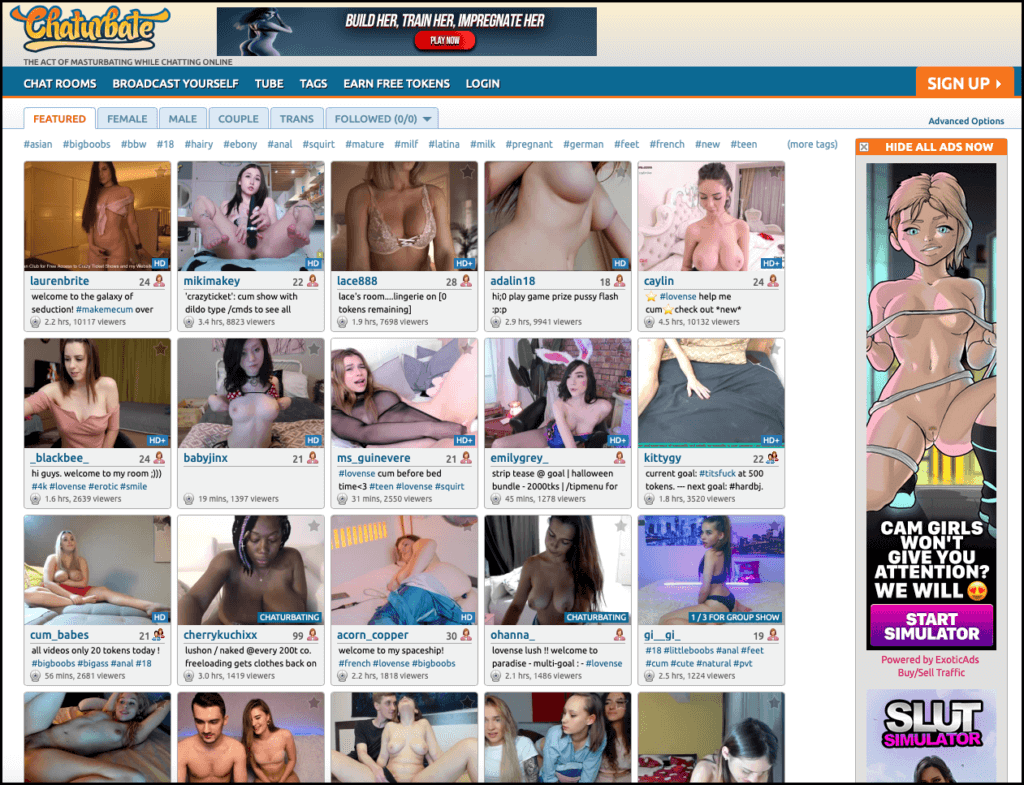 Chaturbate navigation is very intuitive and easy, and you can split the site into just 3 main sessions:
1º) TOP
Here you will find your account box on the upper right if you are logged in. Below is the main blue menu, which has options to take you to the chat rooms, the model casting page, the tube (collects videos and images), the tag listing, the token winning page, and the login.
2º) CONTENT
This session is located below the top, in the middle, and displays the listing of webcams, tags, images, and videos. When you enter a webcam room, the player, the chat, and below the model information next to your custom description are shown.
3º) FOOTER
Like the top section, this part at the bottom of the site is unchanged by navigation. There you will find listings of webcam rooms, separated by gender, age, region, show status, and private show cost. There are also links to support pages and option to select languages.
---
In all these sessions there is presence of banner advertising, but fortunately there are no popups or pop-unders present, so your browsing is not impaired. You can still remove everything by being a premium Chaturbate user.
The site itself also works very well on most browsers and devices, loading pages quickly and having a mobile version for smartphones and tablets.
But our tip is to give preference to access Chaturbate using Google Chrome from your personal computer, so you will have a more comfortable experience.
Do I need to create an account?
If you just want to keep looking, unable to chat or save your favorite webcams, you don't need to create an account to enjoy the site.
Unlike its competitors, Chaturbate does not limit the viewing of multiple webcams, nor is there a maximum time limit for unregistered users to browse the website.
However, we recommend registering on the site primarily so that you can have a more complete experience, and you can even do more than just look at your favorite model.
Not to mention that creating a Chaturbate account doesn't take even 3 minutes, and it's 100% free! So you have nothing to lose in registering.
Are private shows worth it?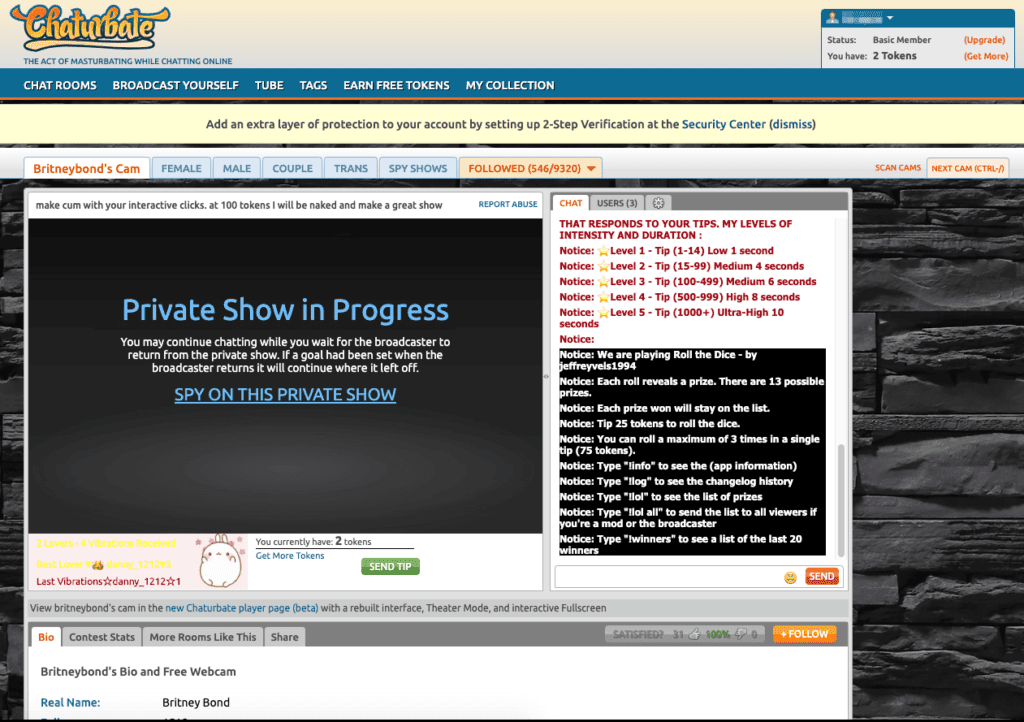 Before talking about the private shows, let's talk about the public shows, those open for anyone on the internet to see.
In Chaturbate there are many models that really excel in front of the webcams, you can find shows of the most varied types, which will please every kind of fetish you may have.
Just for this detail, the site already stands out, because you do not even have to pay to be able to have fun. Now, if you're looking for something really different, there are also good private show options available.
Starting with the technical side, the video quality of the shows in general is at least 720p, but you can find webcam rooms that stream up to 4K. You can also put the webcam in full screen, with nothing on screen, to enjoy the moment in the best way.
Another very nice detail is the possibility of having the private show recorded, for you to review later. This Chaturbate option is usually active without paying any extra.
As for the cost of the private show, we have options ranging from 6 to over 150 tokens per minute, so there are options available for all pockets. Obviously the most expensive are the most popular models, ie the most beautiful and sexy site.
Finally, the show itself can vary greatly from model to model, but most feature the most diverse types of erotic toys and clothes, and make your sexual desires more exciting.
And for those users who are looking for more conversation than really a performance show, there are also nude models, who don't get 100% naked in front of the camera and can chat with you.
Anyway, it can be said that the experience of a private show is something really interesting to have, and worth buying within Chaturbate. But if you prefer alternative options, there are also group and spy shows.
Chaturbate Conclusion
Although Chaturbate is an American site, it has a huge presence in other parts of the world, which makes the diversity of models gigantic and can find both webcam rooms in your language and country as well as foreign.
Another highlight is the quality of the site, which has a well-functional design and easy navigation, allowing users to enjoy the live webcam rooms without major problems.
In the payments part we have several options available for the purchase of tokens, which have a low value and the bigger the chosen package the more discount you get, which helps you save on the fun.
To cite one downside, Chaturbate is lacking in integrations, so beyond the basics of chatting privately, tipping/donating, and requesting shows, there is no other form of interaction or integration with toys or models.
In conclusion, Chaturbate is a simple adult webcam site, but it delivers everything you need for fun, and that's enough for the audience of this type of entertainment.